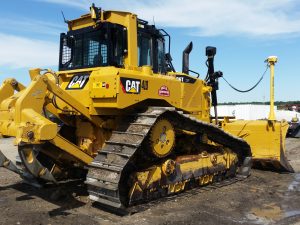 Does your equipment get dirty and grungy when you use it? Then it might be time to make it look like new again with a thorough exterior detailing. Our industrial pressure washing services include engine compartments, radiator, windows, tires and rims, and every other boom, bucket, scoop, spreader, it may have. Pressure washing your heavy industrial equipment will not only protect its paint and coatings, it will also improve the value of the equipment when you're ready to trade or sell it.
All Seasons Mobile Wash will clean up dirt, clay, tar, asphalt, concrete dust, and any other material from your machines. We do an incredibly thorough job and make sure to get all pivot points and articulating joints in the equipment. We leave no stone unturned… literally. Our deep cleaning process will remove grease, dirt build up, and mud from all types of industrial and heavy equipment.
The types of heavy equipment we clean include the following:
Dump Trucks
Rollers
Dozers
Backhoes
Cranes
Scrapers
Pavers
Crushers
Spreaders
Generators
Concrete Gear
Storage Tanks
Dumpsters
And More
Basically, if it moves, we'll clean it!
We take pride in our professionalism and will work with you to get the job done right the first time with as little disruption as possible at the job site.

---
Friendly, Professional, and Flexible Service
All Seasons Mobile Wash has a great reputation for reliability, affordability, and quality workmanship. No two jobs are exactly the same, so call us to discuss your requirements, whether you need a one-off pressure cleaning or a regular contracted service.
All Seasons Mobile Wash works with businesses throughout the Kansas City Metro area, St. Joseph, Lake of the Ozarks, and elsewhere around the midwest.