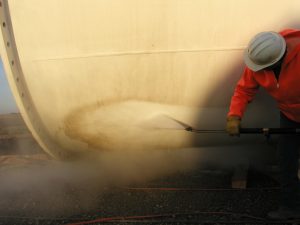 Wind turbines accumulate dirt and other forms of debris like any other outdoor surface. Often times this debris can be in the form of hydraulic fluid from motors, oil, and contaminants from other parts of the turbine. And once this debris has taken hold on the blades it causes more debris to accumulate at a faster rate. This results in a less efficient turbine and an unsightly turbine, much like home ceiling fans can become unsightly when not cleaned.
We have been professionally cleaning since 1994. Our trained technicians are experienced in the details of what types of cleaning are required on wind turbines, and how to perform that cleaning in an expert fashion. We recommend coordinating your wind turbine cleaning services with your regular maintenance and inspection schedule in order to keep the units cleaned.
If your wind turbines need cleaning or if you require further information, please contact us at 816-985-3537.
---
Friendly, Professional, and Flexible Service
All Seasons Mobile Wash has a great reputation for reliability, affordability, and quality workmanship. No two jobs are exactly the same, so call us to discuss your requirements, whether you need a one-off pressure cleaning or a regular contracted service.
All Seasons Mobile Wash works with businesses throughout the Kansas City Metro area, St. Joseph, Lake of the Ozarks, and elsewhere around the midwest.